First I have this awesomely choreographed number from Coshish, have a listen -
Here's Conductor, another old but favourite hat, from Chandrabindoo in Bengali
Finally, I give you Childhood by Aditi Ramesh, another young musician based out of Bombay who combines elements of an Indian Classical music tradition called Carnatic with jazz.
Charkha, Cotton, Colonialism...
The Charkha is basically a manual spinning wheel. In the Indian context, however, it has morphed into a symbol of Swaraj or self-rule, self-reliance and rejection of colonial rule, and the man himself who created this transformation - Mohandas Karamchand Gandhi, revered as the Father of modern India.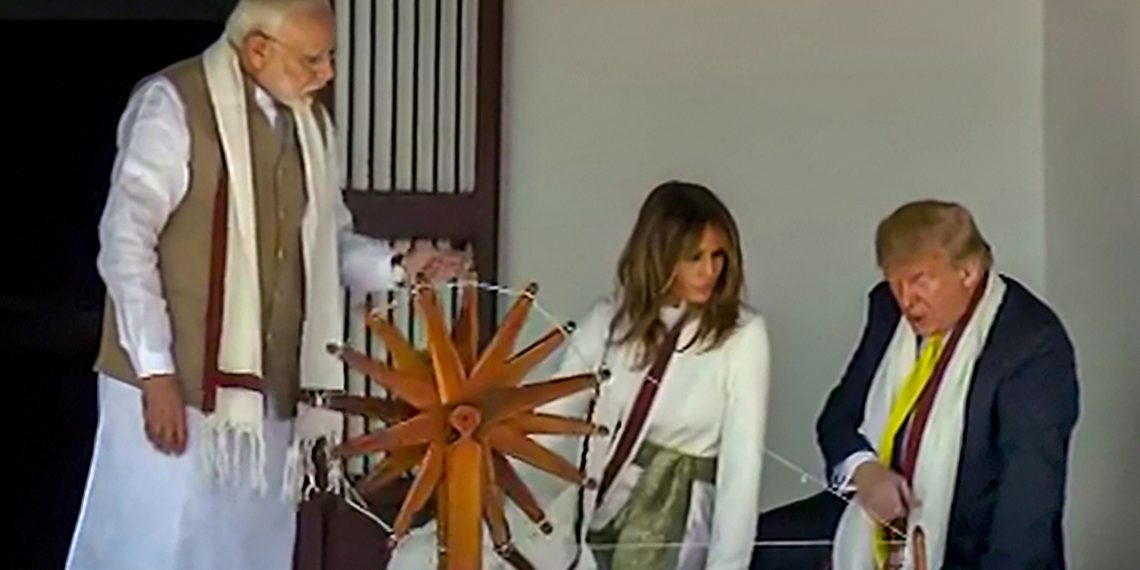 Credit. POTUS with First Lady and Indian PM at the
Gandhi Ashram spinning a replica of Gandhi's Charkha.
The irony of two leaders who dress in suits worth thousands of dollars, with exclusionary ideas on immigration at a Charkha and at Gandhi's workplace, well, I'm not even going there. The pictures are enough to highlight the contrasts, you can draw your own conclusions. Let me tell you about the spinning wheel's role in Indian history instead.
Gandhi's early life was spent in Gujarat on the west coast of India and UK - he had gone there to study law, followed by several years in South Africa as a civil rights activist, where his political views matured (all good things have an Africa connection, remember? Cherchez la connexion l'Afrique!) He joined the struggle for Indian independence in 1915 at the request of Gopal Krishna Gokhale, another stalwart of the Independence movement.
Gandhi at his spinning wheel. Portrait taken
by Margaret Bourke-White. Image source.
At the time, the British colonialists exported the Indian cotton grown by farmers to UK at cheap rates to mills in Lancashire where it was woven into fabrics. The finished goods were imported back into India and sold at high prices, thus depriving most Indians of the profits. The call for boycotting foreign goods first went out in 1905, at the first partition of Bengal. Gandhi revitalised it again in 1918 with the "Khadi" or the 'handspun' movement, where he took up manual spinning of a coarse cotton fabric called khaddar or khadi. The spinning wheel thus became a symbol of dignity of manual labour, self-reliance and rejection of foreign rule. And it also became irrevocably associated with Gandhi, as much as his trademark round spectacles.
Gandhi himself gave up wearing the elaborate, traditional clothing by 1921 and opted for the knee-length loincloth, worn by millions of the Indian working class peasants. He credited spinning at the Charkha with meditative properties also and encouraged everyone to try it. In fact, the story goes that he insisted on Margaret Bourke-White learn to spin the Charkha before he permitted her to photograph him.
Credit. The Swaraj flag, officially adopted by the INC in 1931.
The Indian National Congress was the first political party in the Afro-Asian continent, formed in 1885, to get involved in a movement for independence from colonialism. Gandhi became its President in 1924, but remained its unofficial leader till his death. His Charkha made its way into the proposed Indian Swaraj flag as a central motif in the 1920's, and was adopted in 1931 by the INC. It became a potent symbol of the Indian independence movement, being raised by protesters at civil disobedience rallies and marches. It remained on the flag till the current one was adopted, where the Charkha was changed to the Wheel taken from the Ashoka Pillar. The flag continues to be made of Khadi cloth as specified by the Indian law on flag standards. And Khadi cloth is still used both as a political and a fashion statement in India.
Is there any other fabric loaded with political significance? Do you know of other implements which have come to symbolise the struggle for civil rights/justice?
And among all the super creative posts I visited yesterday, this one really captivated me with its content - Martha Reynolds Writes. Commendable!
A-Z Challenge 2020